Media Coverage
See what the UMD College of Education have to say about the Healthy Brain and Child Development study!
How the Brain and Memory Grow Up Together"
Maryland Today: "A New Nap-time Theory"
University of Maryland College of Computer, Mathmatical, and Natural Sciences: "Student Research Shines at UMD's Bioscience Day"
Boston Globe: "Little kids give up naps at different ages, new theory links that transition to brain development"
National Geographic: "The lingering effects of pandemic sleep for kids"
Knowable Magazine: "How learning happens in the brains of sleeping babes" and Washington Post: "How learning happens in the brains of sleeping babies"
MarylandToday: "UMD to Help Lead Nationwide Study of Early Childhood Brain Development, Impact of Early Adversity"
MarylandToday: "The Mystery of Our Early Missing Memories"
Cosmos Magazine: "Building memory in the early years"
MarylandToday: "Research to Investigate Effects of Fetal Exposure to Opioids."
ScienceTrends: "How does the brain relate to working memory in young children?"
British Psychological Society: "Young children with thinner brain regions have better working memory."
Washington Post: "Go to bed! Brain researchers warn that lack of sleep is a public health crisis."
Education Week: "Nap Time Boosts Learning, Studies Say"
The Diamondback: "Should preschoolers take naps? These UMD researchers want to find out."
MarylandToday: "Downtime Decisions: NSF, NIH Fund Study of How Childhood Naps Affect Memory"
UMD College of Behavioral and Social Sciences: "To Nap or Not? UMD Researcher Studies Impact of Sleep on Memory in Preschoolers"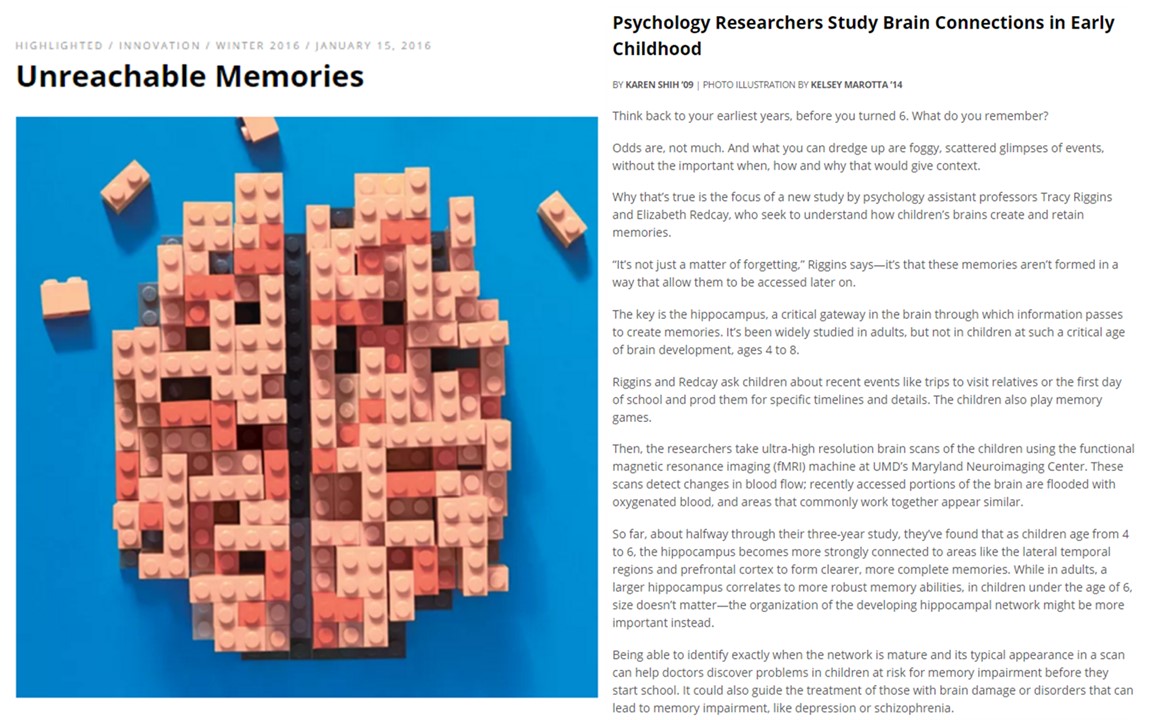 Terp Magazine: "Unreachable Memories: Psychology Researchers Study Brain Connections in Early Childhood"
College of Behavioral and Social Sciences Newsletter: PSYC Professors Work to Unlock Childhood Memories
LRP Success Story: Dr. Tracy Riggins, Ph.D.
How receiving support from Loan Repayment Programs allowed Dr. Riggins to complete two post-docs.
Chesapeake Family -- How Do They Know That? The 411 on Infant Studies
Dr. Riggins discusses the importance of infant research and how families can find opportunities to participate.
Parent's Perspective Podcast
Dr. Riggins (Dr. DeBoer at the time of the interview) discusses early memory development on the award-winning radio program, Parents' Perspective
The Dana Foundation -- Mom's Diabetes May Affect Child's Brain.
"Blood sugar may influence a critical period in the development of the hippocampus"
Newscientist.com -- Maternal diabetes linked to infant memory problems